The Abominable Snowman is a Choose Your Own Adventure book released in 1982. It is written by R. A. Montgomery. It was the first book to be reissued by Chooseco.
Official descriptions
Edit
CYOA.com description
Edit
You and Carlos are on an expedition to the world's highest mountains in the remote kingdom of Nepal to search for the Yeti, otherwise known as the Abominable Snowman. Carlos arrives a few days early and goes missing from Everest base camp. A Yeti sighting was reported nearby. Did he go after it? Or was Carlos on the trail of something else?

Paperback, 144 pages
6.8 x 4.2 x 0.3"
38 BW Illustrations
28 possible endings
EAN: 978-1-933390-01-7
The Abominable Snowman (interactive video)
Gallery for Movie
Edit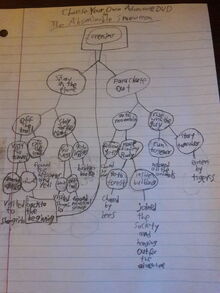 Ad blocker interference detected!
Wikia is a free-to-use site that makes money from advertising. We have a modified experience for viewers using ad blockers

Wikia is not accessible if you've made further modifications. Remove the custom ad blocker rule(s) and the page will load as expected.